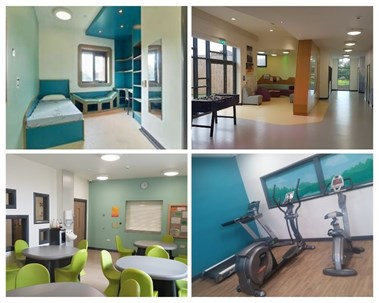 Indigo Ward is a 16 bed general adolescent ward which admits young people with serious mental health disorders including eating disorders.
We have a large team consisting of psychiatrists, doctors, nurses, support workers, occupational therapists, psychologists, family therapists and a number of other professionals. Our aim is to work with young people/children and their family and/or carers to help them through difficult times.
We have a short stay school in the building which has been rated as Outstanding by Ofsted. We have been rated as Good by the CQC in our 2018 Inspection and Accredited by Royal College of Psychiatrists Quality Network in Inpatient CAMHS.
You can follow us on Twitter and Instagram using the hashtag #AncoraHouse
Find out more
If you or someone you care for is admitted to the ward, you might have some questions. We hope the below information helps.
Although Indigo admits both male and female young people, everyone has their own bedroom with en-suite toilet and shower and you are also given a fob to your own bedroom.
We can also turn lounges into single sex spaces if needed.
We always talk to the young people about being respectful of others privacy, you are not allowed to enter each other bedrooms and we encourage appropriate dress, including wearing day clothes during the day.
The hospital and grounds are a no smoking site and you will not be allowed to smoke anywhere on the premises, we do offer Nicotine Replacement Therapy and also support to help you quit smoking.
We have free Wi-Fi in the building, and you are free to use your mobile phones but not to take photos or videos on the ward. We encourage young people not to use their phones during education or therapeutic sessions.
We operate a 'locked door' policy to ensure the safety of all young people. This means that the front doors are locked too, to manage who can and can't come into the building.
However if you wish to leave Ancora House you can speak with a member of staff about this.
We have a zero tolerance towards violence and to damage of property
CCTV is used to help make Ancora House safer for the young people, staff and visitors; the images are not monitored and only looked at when needed. There are no cameras in bedrooms or bathrooms. The images are not kept. Access to the images is restricted and there are strict rules about who can see the images.
Below is an example of the ward timetable, the therapeutic groups are subject to change weekly, also there are 1:1 sessions with staff which will be on individual timetables.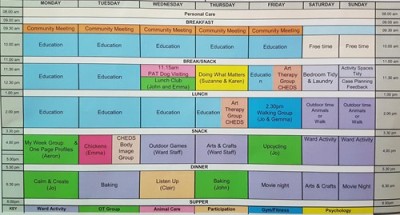 We have therapy dogs who visit weekly and we have chickens in our garden. There are gym and exercise sessions. We also hold a weekly afternoon tea with patients from the dementia ward.
Clothes, including pajamas, day clothes, slippers and shoes, a warm coat for outside activities
Toiletries, (aerosols will be kept in the store cupboard)
Books and Games and other activities
Snacks (kept in the kitchen)
Mobile phone and charger
We do not accept responsibility for loss or damage to property.
Drugs and or alcohol
Weapons of any description
Cigarettes, Lighters, Matches, E-Cigarettes, Vaping Equipment,
Sharp items such as pencil sharpeners
Glass objects such as mirrors or nail polish
Valuable items or large sums of money
Bedding or blankets. Due to our fire regulations we do not allow any items including pillows and blankets from home.
We have laundry facilities on the ward so you can wash and dry your own clothes.
As we have a full timetable that includes education sessions, therapy sessions and 1:1 sessions we do have visiting times, although please discuss any individual arrangements with nursing staff on the ward.
We encourage visiting from 6.30-9.00pm Mon-Fri and anytime at the weekend.
No under 18's to visit the ward without a chaperone and please let nursing staff know prior to any visit with children.
We have a visiting room off the ward with games etc in.
We have protected meal and snack times which are:
8.30am-9.00am
11.00am-11.15am
1.00pm-2.00pm
3.30pm-3.45pm
5.30pm-6.30pm
Please ring the ward outside of these times.
We are always pleased to hear about your experience with us and welcome feedback to help develop our service.
If you would like to leave feedback please speak to our participation lead or our Patient Advice and Liaison Service.
They can be contacted on:
PALS
FREEPOST RRBA UEGB AZJA
Cheshire and Wirral Partnership NHS Foundation Trust
Redesmere
Trust Headquarters
CH2 1BQ
Freephone 0800 195 4462 or email cwp.pals@nhs.net
---
Tel: 01244 397595
We are not far from the M56 motorway or Chester City Centre.
By car:
Follow signs to Countess of Chester A&E and then Ancora House when on the health park.
There is ample free parking outside Ancora House including disabled parking
By bus:
Chester services from www.arriva.co.uk - A link to all the services Arriva run in the Chester area. Including basic timetable information and some route maps. You can catch the X2 bus from Chester Bus Station that drops you right outside the Countess of Chester Health Park Chester & Wirral services from www.firstgroup.com run a number of routes in the region, linking Chester with the Wirral and Merseyside. The site has route maps, timetable and fare information.
By train:
Ancora House is just a 5 minute walk from Bache train station which is one stop away from
Chester station on the Wirral Line.
Location details
Telephone
Address
Ancora House
Countess of Chester Health Park
Liverpool Road
Chester
CH2 1BQ